Fate was guiding my steps when I walked into Otis & Clementine's, a second-hand bookstore in Upper Tantallon, Nova Scotia, and picked up Helen Creighton's Bluenose Ghosts. I leafed through the book and grinned when I saw the chapter headings – ʽGhosts Guard Buried Treasure, Phantom Ships and Sea Mysteries, Haunted Houses and Poltergeists…'A perfect read for a stormy night in an old house that liked to creak and shudder in a gale.
On one such night I started reading and marveled at the sheer quantity of ghost stories Helen Creighton, a folklorist, had collected in person. She reminded me of Pavol Dobsinsky, who travelled across Slovakia's countryside in the 1800s and recorded poor folks' fairy tales and legends teaming with dragons, castles and treasure. Nova Scotia might be lacking in medieval castles so abundant in Europe, but it has a rocky coast and many small islands – a perfect setting for sea drama in form of shipwrecks and pirate attacks. Curiously enough, one such drama happened close to home, here in St. Margaret's Bay.
The Young Teazer
It was 1813, a time of war between the United States and Canada (then a group of British colonies), when conflict spilled north of the border into Nova Scotia. Privateer schooners crisscrossed the Atlantic Ocean in hopes of capturing enemy ships and seizing their cargo. They were one notch above pirates in that they had a licence to rob, which they purchased from the government by posting a hefty bond. It was a way of harassing the enemy without a cost to the taxpayer, while for privateers it was a once-in-a-lifetime opportunity to make a fortune.
In Local History of Atlantic Canada, William B. Hamilton describes one such privateer ship: "The Liverpool Packet … was responsible for taking forty-four prizes during the War of 1812. One of the owners, Enos Collins, began his career as a cabin boy on an earlier privateer, rose to found the Halifax Banking Company, became a member of the Legislative Council, and died in 1871 one of the richest men in Canada …"(1)
Most privateers were in it for the money, but the American schooner Young Teazer enjoyed the element of danger as well. In the words of Hamilton: "The favourite trick of this daring vessel was to lie in wait off Sambro Light. The captain of the Young Teazer went so far as to challenge the British fleet in Halifax to try to capture his ship."(2) If you are not from this area, Sambro is an island south of Halifax Harbour which saw its share of naval battles in the course of history. The Young Teazer apparently liked to sail into the harbour and avoided detection by flying the British flag. By the time the British ships figured out its strategy, the schooner was off on another coastal raid.
But Nova Scotians were no pushovers. Coastal towns had prior experience with Yankee raids – Lunenburg was sacked in 1782, with the neighbouring town of Chester escaping a similar fate thanks to the Rouge Ruse. This time would be different.
On June 26th, 1813, HMS Hogue cornered the cocky schooner in Mahone Bay and opened cannon fire. Everyone could see that the American ship's capture was imminent, but no one expected the blast that followed. On a whim, one of the crew went below deck and blew up the Young Teazer into smithereens. The explosion was so huge that it broke windows in Blandford.(3)
The survivors were fished out of the ocean along with the remnants of the schooner. Because nothing was wasted in those days – especially good material – the wood was used for new buildings such as The Rope Loft in Chester. Still in business after 201 years, this quaint pub and restaurant is located in the harbour on Water Street. As you walk in, you will spot the support beam from the Young Teazer in the middle of the pub.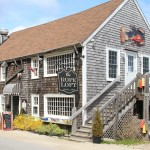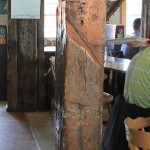 A piece of the keel was carved into a cross and placed in St. Stephen's Anglican Church, also in Chester and not far from the Rope Loft. The dark brown cross is on the right side of the inner door and bears a commemorative plaque with the name Young Teazer.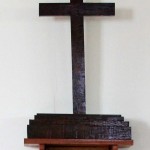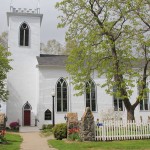 Prisoners taken, wood salvaged, windows repaired … That seemed to be the end of it, until people started seeing a strange red glow over the waters of Mahone Bay at night. Some said it was just a bank of fog illuminated by the rising moon, but those who remembered the Young Teazer wondered how fog could shape itself into a ship on fire. And thus Teazer Light was born, a phantom ship called up from the cold waters of the Atlantic by Luna.
While this spook light could be brushed off as an optical illusion, the same cannot be easily said about its cousin in Northumberland Strait. But that is another story …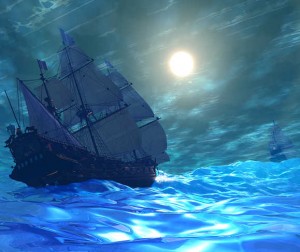 ---
References:
(1) Hamilton, William B. (1974) ʻLocal History in Atlantic Canada', pp46-47.
(2) Hamilton, William B. (1974) ʻLocal History in Atlantic Canada', pp47.
(3) Creighton, Helen (1957) ʻBluenose Ghosts', pp 119.