The legend of the Young Teazer, a ghost ship haunting the waters of Mahone Bay since 1813, is one of those stories that enter your mind via the optical nerve and glow in the dark corners of your imagination for a long time.
In my first book, Nicky and the Lost Templar, the character of Ralf Kaspar, baker and proprietor of Black Sails Bakery, spends his summer nights hunting ghost ships. The Young Teazer is his favourite due to the drama of its tragic end. He lights a storm candle for it, which flickers on a mountain of wax inside an old ship's lantern hanging outside his store.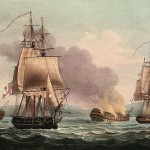 The imaginary Ralf and I drove to Blandford on the last warm day of autumn to see a spry elderly lady, Mrs. S., about a lantern from the Young Teazer. The only lead we had to go on was a short note from Wikipedia, a source not entirely trustworthy. We took Highway 102 west and got off at exit 7 to continue on the Lighthouse Route, which wound along the coast and gave a spectacular view of Mahone Bay. Mrs. S. was out, so we just sat in our pickup truck for a while, taking in the rough sea still brown after the previous night's storm.
"Didn't the book say the blast was so strong it shattered windows in Blandford?" I asked and checked Bluenose Ghosts. Ralf nodded and squinted his eyes, no doubt picturing tall ships sailing under the cloak of dusk to intercept the Teazer, an annoying privateer schooner, according to the Acadian Recorder. I had been able to find a copy of the July 3, 1813's issue, with a first-hand account of the gripping events:
"After our last paper was put to press we were informed that the am. privateer Young Teazer, Capt. Dobson, which had been for some time annoying the Trade of this port had been captured the evening previous … Examination of Elihu Gunnison, carpenter of the late American Privateer Young Teazer taken at Lunenburg, 28th June, 1813, before Francis Rudolf and John Creighton, Esquires. The said Elihu Gunnison, deposes, that on the 27th June, being nearly off Lunenburg, saw a sail to windward – all hands were called to make sail, and out sweeps – at 2 P.M. discovered another sail to leeward – at 4 p.m. both Vessels took the wind, landlock'd, and compelled us to run into Mahone Bay – The sail which appeared to leeward of us proved to be H. M. ship La Hogue, which chased us into the mouth of the Bay and came to an anchor, and immediately manned and sent her boats after us – about nine o'clock the Teazer blew up – La Hogue's boats being nearly three miles off. – It is supposed that the Teazer was blown up intentionally by some of the Crew – The explosion was great and destructive, out of 36 men which were then on board 8 only were saved, including the Deponent, two of whom are much hurt – all were thrown into the water, and one of them with difficulty reached the Boat astern – cut the painter and picked up the surviving seven – and immediately rowed the Boat ashore and surrendered themselves to one Martin Rafuse, residing on Anschutz Island, in Mahone Bay aforesaid; who brought and delivered them at Lunenburg – their names are as follows, viz: – John Michel, John Carle, Richard Van Vost, John Cahoon, John Pleo, Lewis D. Motte, Charles Wheatman."
These injured men were later transported to Chester, where they were housed at 72 Duke Street. The wreckage was salvaged, bits and pieces of it put to good use in the coastal communities. I saw a posted beam from the Teazer in the Rope Loft and a cross in St. Stephen's Anglican Church, both in Chester. Now I wanted to see the lantern, which Wikipedia placed in Blandford. Wouldn't it be something to have a lantern from a ghost ship?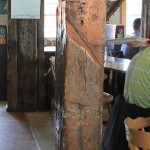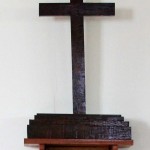 Our hopes were quashed by the energetic Mrs. S., who had warned us that her husband's family heirloom was unlikely to have come from the Teazer. Still, we had to see it for ourselves. When she arrived, we followed her into the house, spooking her tomcat, who hid upstairs under the bed. The lamp – not a lantern – was duly produced and set on the dining-room table for a close examination.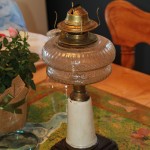 "There are some letters on the pin," I pointed out, and Ralf bent down to decipher them. "P & A Manufacturing, Thomaston, Connecticut." The kerosene lamp was made of brass-plated steel, a process probably unknown in 1813. It was an American lamp all right but from the wrong time period. Plume & Atwood Manufacturing Company opened in 1869, more than 50 years too late. Mrs. S. smiled mischievously – undoubtedly we were not the first ones to come calling about the antique.
"My husband's grandfather used to see the light out in the bay," she said as she was putting the corroded relic away.
"What light?" I asked and shot a glance at Ralf, whose walrus-like moustache bristled.
"Teazer," Mrs. S. shrugged. "I don't believe these things myself. Do you?"
Did I? I looked out through the window at the tumultuous sea that had claimed so many lives. Lives and dreams of men, whose fates were entwined with those of their ships. I recalled the famous ghost ship of the Northumberland Strait, featured on a Canada Post stamp this past summer. Then I thought of the ghost in our old house in Indian Harbour, whose fine racket welcomed us the first night.
"I do," I said firmly, and Ralf nodded slowly. He had seen a few phantom ships himself and even had a map of their exact locations.
On our way back home we decided to take the scenic route and drove through Bayswater. There, we stopped to pay our respects at the Swissair Flight 111 memorial, a quiet place embraced by the trees that shielded it from the untamed roar of the Atlantic.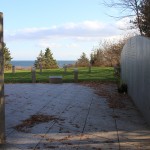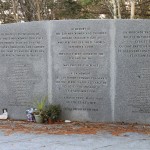 It is important to believe … to remember and to keep the flame alive for the sake of those who no longer walk among us. Ralf knows this and keeps a candle burning for the wanderers in the dark. It doesn't have to be in a lantern from the Teazer. Any lantern will do.