Nova Scotia's Oak Island is a magical place that grips you by the heart and doesn't let go. It is a dream factory, a mill that churns out legends and rumours. It's also a black hole that has swallowed many a treasure hunter's fortune and hopes. For many years, this private island was off limit for the general public. When I first drove up to it, with Michael Bradley's Holy Grail Across the Atlantic on my dashboard, I saw a not-so-friendly "no trespassing" sign attached to a gate barring the causeway. But much has changed since then, mostly thanks to Rick and Marty Lagina who opened their portion of the island to tourists.
The two brothers star in History Channel's television series The Curse of Oak Island which gained instant popularity in Nova Scotia and far beyond. (I hear it was a great hit in Jamaica.) It documents the Laginas' treasure hunting and tests various theories against the island's many challenges. It also keeps us, die-hard Oak Island fans, afloat during tough winters in Atlantic Canada.
So, what's new on Oak Island?
Earlier this year, Rick and Marty were spotted in the town of Bridgewater while purchasing large quantities of bleach. Shortly after, a photo of them and their shopping cart circulated on Facebook. Was the bleach intended for a water well or, since we are talking Oak Island, a bore hole? I quizzed the spokesman George Johnston about it but he wasn't at liberty to say. I found out we would not be seeing Hutton Pulitzer and his diving team in the upcoming season, which begs the question who will be next to brave the 10X bore hole?
The museum on Oak Island is up and running and it has a well-stocked gift shop which now carries my book. I could not imagine a better place for Nicky and the Lost Templar to be!
Among the other titles featured at the museum, I noticed a new non-fiction book by Joy Steele who claims to have solved the mystery of the Money Pit. Warning: if you are hoping for Spanish gold or Templar silver, this book is not for you. Rumour has it a CD ROM with a virtual tour of Oak Island might be available in the future. In the meantime, I encourage everyone to take the three-hour tour of the island conducted by the very knowledgeable Friends of Oak Island Society. If you can't come in person, please enjoy my photographs below. (If you'd like to license some of them in high resolution, do not hesitate to contact me.)
Oak Island Photo Gallery
1/ A replica of the so-called 90-foot stone found deep inside the Money Pit. The stone's last known location was in the shop window of a book store in Halifax in the 1800s. Not one photograph of the original stone remains, leaving everyone in the dark. The symbols you see on this replica are based on memory only:
---
2/ The foundation of the 1800s house built by Daniel McGinnis (or McInnis), who was one of the finders of the Money Pit:
---
3/ A large, rectangular piece of slate believed by some to be a Portuguese padrao stone. Padrao stones served as markers in foreign land claims. They had a similar shape to this one and were carved with the symbols of Portugal. The slate stone on Oak Island has no such carvings, only holes:
---
4/ Not all lots on Oak Island are open to the public, among them the property of Fred Nolan. During a detailed survey of his land in the 1980s, Nolan discovered an extensive stone cross spanning over hundreds of square feet. This cross consists of several huge boulders and is believed by some to be part of an even larger design. The Finger stone below used to stand upright and point at the cross hidden in the forest:
---
5/ There is a theory that Nolan's Cross, which lies on a 60° axis, points to Jerusalem. This alone would exclude colonial-era settlers and pirates as its builders. Measuring of longitude wasn't an exact science until the invention of chronometer in the late 1700s. By then, Nolan's Cross was already in existence:6/ To get to the Money Pit, you have to walk along the South Shore Cove (formerly Smith Cove or Old Smith Cove). Unlike the rest of the island's coast, this cove is free of large boulders so typical for Nova Scotia. Its crescent shape suggests it could have been altered by human hand:
---
7/ The least popular place to explore for the Laginas – the swamp. It is easy to imagine how it could be drained and probed but much harder to do. Government permits have to be obtained first and a dump site chosen for the swamp water. In the spirit of Oak Island's stubbornness, the swamp often gives confusing readings on metal detectors. The Norwegian researcher Petter Amundsen steadfastly believes the swamp is where the Mercy point lies:
---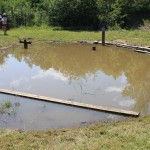 8/ The Laginas have been busy! A large excavator stands by the Money Pit, whose precise location is now lost due to massive treasure hunting and drilling over the last 200 years:
---
9/ This is a reconstruction of one of the stone triangles found on Oak Island. Unfortunately, its original shape and position was lost due to an aggressive approach by Robert Dunfield who turned portions of Oak Island into an open pit mine in the 1960s. Under the old stone triangle, another shaft was allegedly found, full of brackish water:
---
10/ The bore hole known as 10X is now easy to peer into thanks to a wooden platform that surrounds it. Last year, the treasure hunter Hutton Pulitzer brought two divers and an underwater robot to survey the cavern beneath this shaft. Dan Blankenship, who almost died in the 10X in 1976, believes he saw a body, a box and a pick down there:
---
11/ My favourite spot: Smith's Cove. This is where tonnes of coconut fibre lie beneath the beach rocks. The most likely explanation is that the coconut fibre was used as a packing material in the cargo hold of ships. Once the precious crates was unloaded on Oak Island, the fibre was dumped and put to a new use. It is believed the underground flood tunnels that channel seawater from Smith's Cove into the Money Pit were covered with the fibre, which kept them from getting plugged up:
---
12/ The sublime "G stone" at the mouth of Smith's Cove links Oak Island to Freemasons. It was found face down and puzzled everyone despite its simplicity. In Freemasonry the letter G stands for God, the Grand Architect. I have heard Nova Scotia's Freemasons visited Oak Island in the past, clad in their regalia. It must have been a sight to behold!
---
13/ Our tour guide was Charles Barkhouse. He is a member of FOIS and also stars in The Curse of Oak Island. He is a well of knowledge when it comes to Oak Island but you won't catch him favouring any particular theory:
---
Having experienced the allure of Oak Island, I sometimes wonder what it will be like when the mystery is cracked and all its shadowy corners illuminated. I hope that day is far, far away.